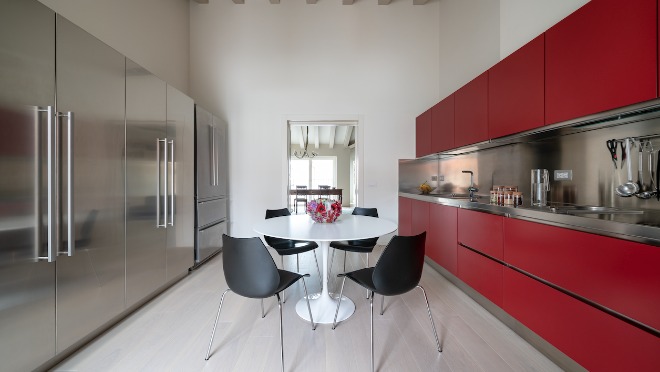 Beauty, history, and design are combined with sophisticated vintage features inside this large, charming and serene home, located on the top floor of a 19th-century historic apartment block in the heart of the city in the Italian region of Veneto.
The apartment was recently renovated by Studio Albanese and it is in the center of attention that Atelier Kitchen is located. Atelier is the perfect and authentic expression of the modern concept of cuisine, a place that over time has become a large "multifunctional laboratory" in which an increasing number of different activities can be performed without ever losing its main role, cooking. Atelier offers maximum customization capabilities, representing Abimis's ability to meet both aesthetic and functional requirements that are often very complex, specific and unique while respecting the architecture of the space in which the kitchen is set.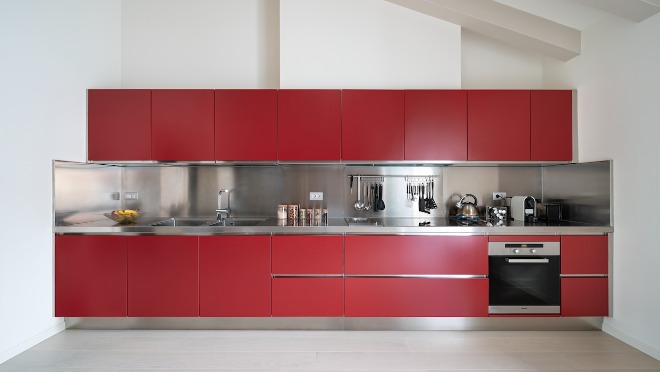 The kitchen is housed in a comfortable, warm and friendly environment, despite being an open-plan lounge, creating a light and relaxed atmosphere. The Atelier, made of AISI 304 stainless steel, is a significantly large kitchen, extending along both sidewalls of the kitchen. The doors, without any handles, are painted in vibrant red. Aside from having an immediate visual impact, the color red really radiates emotions in this room, creating an atmosphere and a sense of warmth. The new A_ccessori range, designed by Roberta Tosolini for Abimis, makes this kitchen luxurious and efficient.