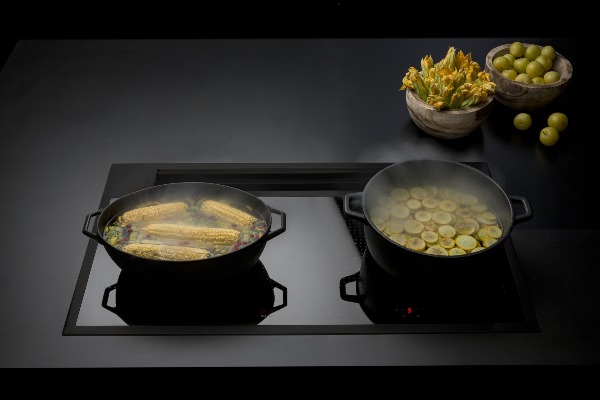 An outstanding performance that meets minimal design - the perfect description for Sintesi, Falmec's integrated cooking system.
Sintesi skillfully combines superior suction and induction in one unit, thanks to an 88cm panel that is fully integrated into the work surface.
Like other Falmec-inspired solutions, Sintesi is now available in full black to match the latest trends, enhance the light or chrome finishes of other key kitchen elements, and integrate into the black Schott glass-ceramic worktop to even greater aesthetic levels.
The painted black AISI 304 stainless steel frame covers the hob and features a system fitted with flaps that only open when the hood is open. These covers automatically close when the panel is off, aligning perfectly with the induction panel. The result is a surface that facilitates kitchen work and provides access for easy cleaning.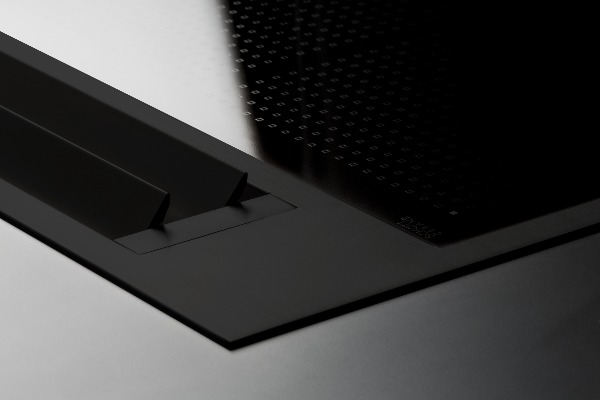 The Synthesis hob consists of 4 zones with 9 cooking levels, plus High Power Boost and Flek Surface technology that allows induction to work evenly across all cooking surfaces. The combination provides maximum versatility for pots and pans of various shapes and sizes. Other practical features on this new all-black model include Keep Varm with 3 temperature levels (42 ° maintenance, 70 ° food defrost and 94 ° cooking intermediate), dual bridge function, touch control with a display, pan sensor detection. timer, safety lock, and indicators of residual heat and filter saturation.
Sintesi delivers excellent suction performance with maximum silence - due to special sound-absorbing materials and low power consumption. All thanks to the powerful 600 m3 / h engine that enables Sintesi howitzers to achieve the ultimate A ++ energy class.