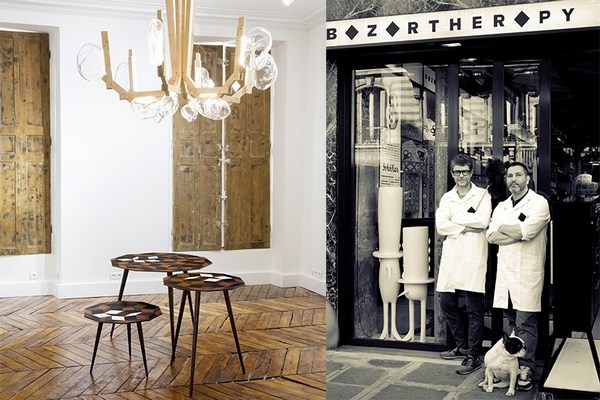 The Paris store, founded by Pascal Bildstein and Emanuel Attali, continues its struggle against the standardization of our interiors by becoming an editor of furniture and decorative accessories. Cheerful design that elicits creativity in all its forms...
When a decoration specialist and a fashion expert meet, it can lead to a sales concept that promotes originality. In 2014, Pascal Bildstein, former creative director of the tableware brand Deshoulières and Emanuel Attali, former head of production at Paul & Joe and A.P.C., found just the place to gather all their favorites. The space, located in the Canal Saint-Martin neighborhood, is a next generation concept store: "We wanted to make a joyful store for the whole family on the baseline of 'the pleasure of giving, the joy of receiving'. We did not want cold, elitist design. It's like a gift store, a convenience store that reflects current lifestyles. We play on crossing and clashing niche brands," describes Pascal Bildstein. The Sicilian scents brand Ortigia coexists with ceramic swallows from the Portuguese Bordallo Pinheiro, Urbanears headphones with Mtec USB sticks. Along with the famous Pez candy dispensers, wax virgins and surprise Cones with fun names filled with fun trinkets. "We sell what people can't find elsewhere. All this brings something human to a very uniform urban space."
But Bazartherapy does not stop at whimsical retail items. To cultivate its uniqueness, the store has become a producer. They gave free rein to French designers Ich & Kar, who also took charge of the brand's visual identity, to imagine the Penrose collection of furniture and accessories. Alongside its highly colorful geometric patterns is the poetic collection Karma et Fleurs by Nathalie Leté. "In a world that is becoming tougher, I champion our philosophy of decorative art by offering furniture people want to keep for a lifetime. In September, we are stretching the collection at customers' request. The family is growing, with a high table for the dining room, mirrors, coat hooks and also tables from Spanish street artist Dourone." As Ich & Kar aptly express it, "Bazartherapy, a retail space and also an editor, is a therapeutic concept based on generosity." And it feels good.