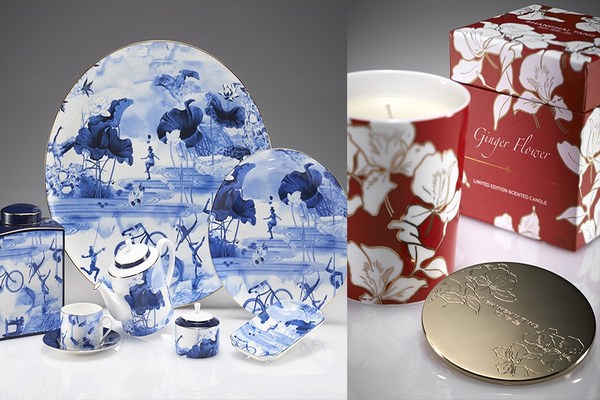 For the first time, the famous luxury brand Shanghai Tang is presenting its art-of-living collections at the prestigious Scènes d'intérieur Gallery. An inspired contemporary reinterpretation of ancestral Chinese craftsmanship...
In terms of craftsmanship, China has tremendous expertise. It is the richness of this unique heritage that the Chinese brand Shanghai Tang explores and develops in a contemporary aesthetic vein. Each collection pays a valuable tribute to the wonders of ancient Chinese culture and the traditional techniques of the Middle Kingdom. Jewelry and boxes revisit cloisonné enamel, an art refined for over 700 years. The poetic decoration of tableware celebrates the subtle delicacy of Chinese porcelain. The preciousness of lacquer boxes gives new life and style to techniques developed during the Shang and Han dynasties. The grace of silk scarves, a fabric invented by the Emperor Huangdi for his wife Leizu, evokes the famous Silk Road. The brand favors the noblest materials, like Mongolian cashmere for very sensual throws, as well as polished silver. The home fragrances lines, including a collection that highlights the soothing sweetness of the ginger flower, help perfect an art of living combining heritage, modernity and cosmopolitan chic.
Shanghai Tang, created by Davig Chang and now owned by the Swiss group Richemont (Cartier, Van Cleef & Arpels, Chloé, Lancel, Montblanc, Piaget, etc.), was the first luxury brand in China in 1994. Its strategy offers a masterful demonstration that as far as excellence goes, the Made in China can offer a rooted, contemporary lifestyle that resonates in our imagination. A philosophy of genuine sophistication made available through an international network of 48 shops including the huge Shanghai Tang Mansion in Hong Kong.